Job vacancy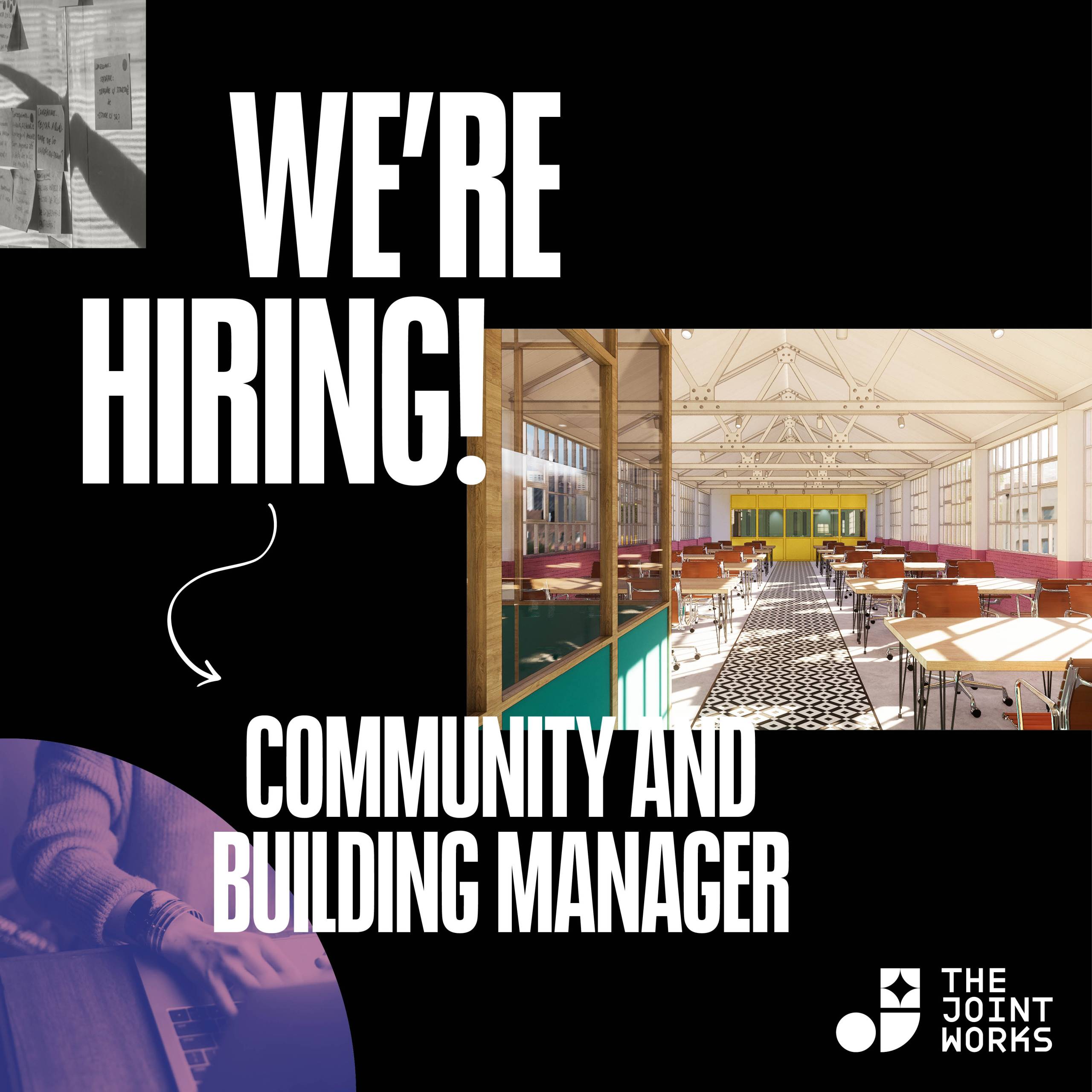 About the job
Reporting to: Director of Nestings JQ t/a The Jointworks
Team: Close working relationship with the Substrakt admin team
Salary: £17,500 pa (this is the pro rated salary) + Benefits including free full-time Jointworks membership
Part time: c.20 hours per week (Mon-Fri)
Holidays: 12.5 days per year (plus statutory holidays)
About Us

The Jointworks, a vibrant and creative new co-working and events space in the heart of Birmingham's famous Jewellery Quarter, occupies a redeveloped three-storey former workshop with a fascinating history. With special heritage grants, we're doing all we can to sympathetically restore the space, retaining as much of the original styling as possible whilst transforming it into a modern and comfortable workplace. See our Instagram for updates on the renovation.
Opening in Spring 2022, the building will be occupied by creative agencies from digital, design and communications. Some will be full time tenants with flexible teams, others will be day visitors or freelancers popping in for regular or one-off meetings. We will host external events and programme our own (daytime, evenings and possibly weekends for which time off in lieu is offered) with the space to display work by local makers and artists. Partners from across disciplines will share knowledge and insight, including Birmingham Design Festival.
We are an equal opportunities employer and we welcome applications from all suitably qualified people regardless of their ethnicity, gender, disability, religion, sexual orientation or age. We are committed to making The Jointworks an inclusive and welcoming workplace for all. We expect everyone in the team to be committed to our own principles around equality and fairness in the workplace and will offer training as appropriate.
About The Role

The Jointworks Community and Building Manager will have excellent communications, administrative, practical and interpersonal skills, ensuring every visitor feels welcome and supported, whether as a founding resident tenant, a regular signed-up scheme member, or as a guest.
As a part-time role requiring the postholder's presence Mon-Fri (9am-5pm), this is ideally suited to a freelance creative who is looking for a permanent home as a tenant in The Jointworks. Full-time membership will be included, and the postholder will have the opportunity to manage their freelance work alongside these part-time responsibilities which can be worked flexibly.
In addition to other relevant and reasonable duties, key responsibilities include:
COMMUNITY (CONCIERGE, ADMINISTRATION, EVENTS & MARKETING)
Welcoming tenants and guests to The Jointworks.
Responding to tenant enquiries and requests, resolving any problems or issues. Programming and coordinating events.
Managing events, room hire, and any associated external resource needs (eg. catering, tech support).
Marketing, PR and promotions for the membership scheme and events, including social media and documentary photography.
Liaising on education/outreach programmes with local schools.
Managing sales and stock for the Birmingham Design Festival shop.

BUILDING MANAGEMENT
Coordinating and overseeing regular building maintenance and repairs, including regular building inspections, preparing reports, and preparing and monitoring maintenance budgets.
Managing and directing cleaning and security staff, and negotiating or liaising with other third-party service providers.
Preparing and carrying out emergency protocols and procedures.
Maintaining a safe environment for building occupants and visitors.
Ensuring facilities are in compliance with applicable policies, regulations, and building codes.

About You

We're looking for someone with a passion for the Creative Industries and a highly organised, friendly, community-focussed attitude. You'll enjoy building strong working relationships with people at all levels of the operation, both internally and externally, and be accustomed to juggling priorities at short notice.
Skills and experience that would be useful (but not essential) are listed below. We'd be happy to hear from candidates who may not have all of this specific experience but would like to learn and grow in the role.
Building and facilities management with understanding of all necessary licensing and facilities standards across Health & Safety in the workplace and/or for public buildings.
Proven track record of confident and productive dealings with technical, services, and utilities suppliers.
Event management, administration and organisational skills with a hands-on attitude.
Good marketing and PR skills including social media management, basic/practical photography.Familiarity with hospitality / food & beverage management.
Knowledge of computerised booking systems.
Proactive approach to problem-solving as a confident and mature self-starter able to self-direct with a positive and approachable outlook.
Security conscious and reliable with the highest levels of integrity.
Practical and confident technical skills, accustomed to working with hardware and software for presentations; and with productivity packages, email and/or ecommerce (including Office 365 and standard Mac applications) or ability to learn quickly.

Training & Qualifications
A-level or equivalent standard education
Excellent numeracy, literacy and IT skills
H&S training (or willingness to do so)
First Aid training (or willingness to do so)
Disability awareness training (or willingness to do so)
DBS checked to liaise with schools (or willingness to do so)
The Jointworks is a new venture with a new team. This job description is intended as a guide, not a contract, and can be changed or updated as the demands of the role change with appropriate consultation.
TO APPLY
Please contact manager@thejointworks.com with details of your experience and an outline of why you think you would be a good fit for this role.

The Jointworks (Nestings JQ Ltd) is an equal opportunities employer and we welcome applications from all suitably qualified people regardless of their ethnicity, gender, disability, religion, sexual orientation or age. We are committed to making the Jointworks an inclusive and welcoming workplace for all.